Join David and Will as they explore the paleontologists' perspective on various topics in life and earth history. Each episode features a main discussion on a topic requested by the listeners, presented as a lighthearted and educational conversation about fossils, evolution, deep time, and more. Before the main discussion, each episode also includes a news segment, covering recent research related to paleontology and evolution. Each episode ends with the answer to a question submitted by subscribers on Patreon. New episodes with new topics every fortnight!
Episodes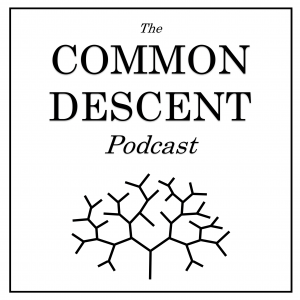 Saturday Apr 06, 2019
Saturday Apr 06, 2019
It was the late 1800s, and paleontology was just getting started in the Americas. Two prolific and passionate scientists, Edward Drinker Cope and Othniel Charles Marsh, among the earliest prominent fossil researchers on the continent, struck up a legendary rivalry. Their battles took place in the field and in the literature, and over three decades they engaged in some of the nastiest and most petulant quarreling in scientific history. This infamous era in early paleontology became known as The Bone Wars.
In the news: an egg in an ancient bird, a new mastodon, a giant T. rex, and the day the Cretaceous ended.
Time markers:
Intro & Announcements: 00:00:00
News: 00:05:00
Main discussion, Part 1: 00:39:30
Main discussion, Part 2: 01:07:30
Patron question: 01:47:30
The Common Descent Store is open! Get merch! http://zazzle.com/common_descent
Check out our blog for bonus info and pictures:
http://commondescentpodcast.wordpress.com/
Follow and Support us on:
Patreon: https://www.patreon.com/commondescentpodcast
Twitter: https://twitter.com/CommonDescentPC
Facebook: https://www.facebook.com/commondescentpodcast/
PodBean: https://commondescentpodcast.podbean.com/
iTunes: https://itunes.apple.com/us/podcast/the-common-descent-podcast/id1207586509?mt=2
YouTube: https://www.youtube.com/channel/UCePRXHEnZmTGum2r1l2mduw
The Intro and Outro music is "On the Origin of Species" by Protodome.
More music like this at http://ocremix.org.
Muscial Interludes are "Professor Umlaut" by Kevin MacLeod (incompetech.com). Licensed under Creative Commons: By Attribution 3.0
http://creativecommons.org/licenses/by/3.0/
Comments
(1)
To leave or reply to comments, please download free Podbean or